'Loops' Holt
Horse of the Month November 2022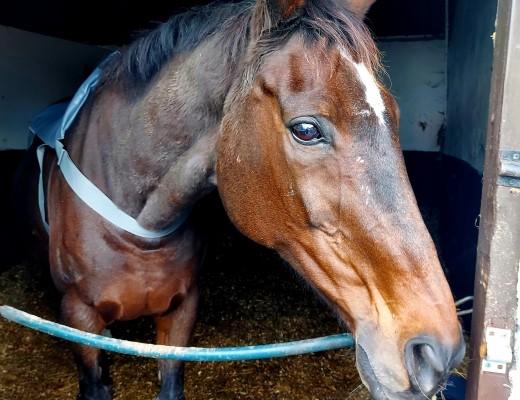 Our Horse of the Month for November is this gorgeous ISH called Loops. Loops is 23 and semi-retired. Her owner Roni has kept her in light work with plenty of hacking and hadn't noticed any obvious signs of Cushing's. Recently Loops had a routine visit from an equine dental technician who flagged evidence of dental disease. Loops' vet then examined her and recommended checking for underlying causes of dental disease, which in older horses usually includes a test for Equine Cushing's disease.
The blood test gave a high ACTH reading, confirming that Loops did have Cushing's. Her vet prescribed a daily medication. Initially Loops was a little off her food after starting the medication, but her vet advised on how to manage this situation and it soon passed. Loops is now a few weeks into her treatment and is behaving like a 3 year old again! Roni says that she is "…yet to saddle up and get back on board….but I'm hoping for a bright dry non-windy day as I'm not sure how long I will stay on!"
We're delighted that Loops is doing so well – it's really common for owners to comment that they feel as though their horse or pony has reverted back to behaving like a 3 year old after starting treatment for Cushing's! Lots of older horses that are thought to be slowing down due to their age are actually slowing down due to Equine Cushing's disease, which as Loops has shown can be simple to treat and manage. Thanks so much for sharing Loop's story with us Roni – we hope you're back in the saddle soon!