'Satilia' Deprez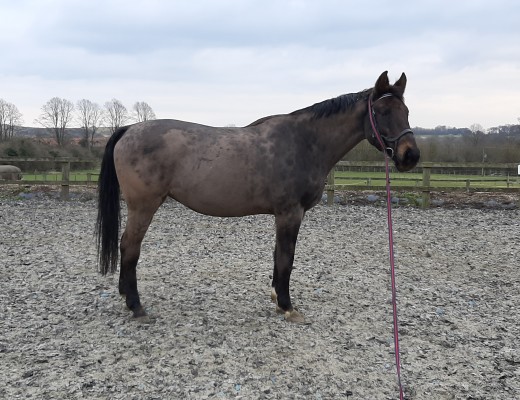 Our Horse of the Month for April is Satilia. This beautiful mare is owned by Claudine who started to suspect Satilia may have Equine Cushing's disease in 2018. Satilia gradually developed many of the signs associated with this disease: first her behaviour became erratic, guarding other horses in the field, being over reactive to the simplest things and being really lethargic out hacking; then she suddenly put on loads of weight and also lost her topline. She developed a longer than normal coat and began to sweat more than she ever had. Satilia suffered from recurrent corns/abscesses in her feet and Claudine also noticed an increase in her drinking and urinating.
Claudine told us "It was only when I sat and looked at everything that I thought of Cushing's. I contacted my vet, got her tested and the test came back positive in October 2018. I was gutted but at least I knew that there was a treatment available for her. I straight away put her on a low NSC diet alongside the daily treatment that my vet prescribed...roll forward two years and Satilia is better than ever! She is more like a 12 year old than 21!!"
Satilia has needed some changes in her treatment dose over the last two years, as many horses on long-term treatment for Equine Cushing's do, but her story just goes to show that even when horses present with lots of different Cushing's signs they can be well controlled by appropriate treatment and management. We're so pleased that she is doing well Claudine!