'Sea Lord' Lloyd
We apologise for any inconvenience that this causes. Veterinary surgeons: please contact your territory manager if you require assistance in processing free ACTH tests.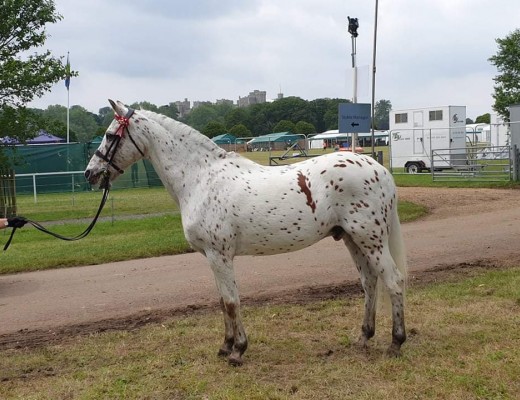 We are delighted to introduce our first Horse of the Month in 2022, Lord! This handsome British Spotted Pony, more formally known as Sea Lord, is 26 and has been successfully treated for Equine Cushing's disease for the last four years.
In 2018 Lord's owner, Katie, noticed that he was starting to get curly hair on his saddle patch and fat pads around his eyes, and he also became very lethargic. Like many owners who contact us when their horse has been diagnosed with Cushing's, Katie said that when the test results came back positive she remembers breaking down and worrying that she was going to lose Lord.
Happily though Lord has responded really well to treatment. Katie gives him three tablets a day which keeps his blood ACTH levels stable, and she says that the treatment "is worth every penny…wow! He's got his energy back and the treatment literally took ten years off him! I put the low energy down to him getting on in life but nope! Now he's winning again, jumping again, back to pulling me around and showing me up in show rings with his cheeky self again!"
Thank you for sharing Lord's Cushing's journey with us Katie – we are so pleased that he is doing so well, and we know that many owners receiving positive diagnoses for their horses will be heartened by your story of how much happier and energetic Lord is now that his Cushing's has been identified and treated.